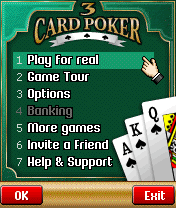 3 card poker is another game that is highly popular like video poker. There are plenty of bonus prizes and side bets that can be done in this game as well. This game has had some great success at online casinos and even land-based casinos. Now the game is available at Wild Jack mobile casino, where players can play three card poker on a cell phone or other mobile devices.
The game itself has two games in one. There is a pair-plus bet and a ante-play bet where players can bet on either one or both. Each one of these bets has different payouts because you are essentially betting on two different outcomes. The first type of bet is the Pair Plus bet, where you are betting on what your own hand will be rather than playing against the dealer. The objective with the pair plus bet is to get a pair or better when your initial three cards are dealt. The payout odds for qualifying 3 card poker hands for the pair plus bet are shown below:
Straight Flush pays 40 to 1.
Three of a Kind pays 30 to 1.
Straight pays 6 to 1.
Flush pays 4 to 1.
Pairs pay 1 to 1
The other bet is the ante-play bet. On this bet, you are trying to beat the dealer's three card hand. First the player pays an ante. Next, they are dealt an initial three cards facing up with two options to take, where the dealer is dealt three cards facing down. The first option is to "play" and make a second bet equal to the ante. After this bet has been made, the dealer shows their hand and the prizes are awarded. The second option is to fold if you have a bad hand. The drawback to folding is not only do you lose your ante, you also lose any pairplus bet at the same time.
There are even some bonuses for the ante-play bet with extra payouts shown below:
Straight Flush pays 5 to 1.
Three of a Kind pays 4 to 1.
Straight pays 1 to 1.
These payouts happen regardless of what the dealer has. The rules are simple enough that the game can be played mobile on a cell phone. It is another one of those games where better skill can make you win more often because it is a poker game. The game itself is powered by Microgaming software and the graphics are sharp. The game play is smooth and you always know that your sensitive information such as payment details is kept safe. They even have excellent customer support on top of it, which makes mobile three card poker an awesome game to start playing. Visit Slotland Casino or CasinoMax casino for more details on how to install this game.